Sankalana Flora
Start your life's new journey surrounded by Beauty and Fragrance of Nature.
A spectacular floral arrangement for any occasion fills one's mind happy. If it is a wedding ceremony flower decoration is an essential part, as you start your life's new journey surrounded by beauty and fragrance of nature.
As well experienced florists we offer attractive flower arrangements to suit any kind of occasion from traditional styles to modern. This web site will give an idea of what we have already done with our floral arrangements in a creative way.
Splendid
creative designs we offer to exemplify the ambiance of the occasion.
Modern
and contemporary floral designs are quite fascinating your occasion.

Great experiences we gained help us to provide elegant
designs.
We respect our clients in friendly manner to fulfill their
requirements.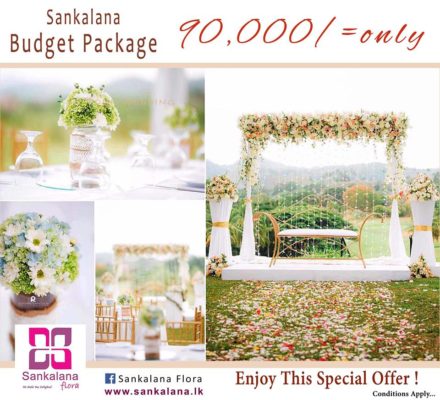 Hurry Up…. Let's Make Your Dream Reality…. with
Poruwa, Seetiback, Entrance, Table Deco, Oil Lamp
Kiribath Table, Head Table…
*Conditions Apply
Weekdays 8.00 a.m to 6.00 p.m
Saturday / Sunday 8.00 a.m to 5.00 p.m
Poyaday – 8.00 a.m to 3.00 p.m